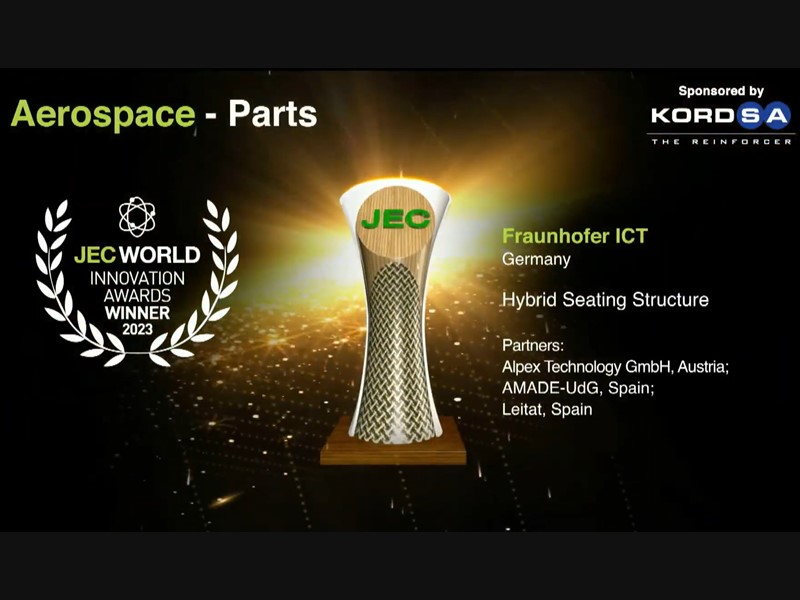 08 Mar

Hairmate project awarded – JEC Composites Innovation Awards 2023

The ceremony of the JEC Composites Innovation Awards 2023 was held in Paris on March 2. The European HAIRMATE project, in which AMADE has participated as a partner, has been awarded the prize within the Aerospace – Parts category.

Video of the nomination: https://youtu.be/z-wbcUqaVOQ?t=1124

Video of the award announcement: https://youtu.be/z-wbcUqaVOQ?t=1407

The CleanSky2 HAIRMATE_EU project designed, manufactured and tested a lightweight hybrid composite seating structure which meets sustainability criteria, easy recyclability and cost-efficient production by automated processes. The crash test results showed an outstanding performance in which the seat structure remained intact until 11g.

AMADE – Universitat de Girona coordinated the 16g front deceleration test that was performed at the Dynamic Test Centre (DTC) facility in Switzerland.

More information about the project: https://hairmate-project.eu/

This project has received funding from the Clean Sky 2 Joint Undertaking (JU) under grant agreement No. 821300. The JU receives support from the European Union's Horizon 2020 research and innovation programme and the Clean Sky 2 JU members other than the Union.

Any dissemination of results/communication activity related to the project reflects only the author's view and the JU is not responsible for any use that may be made of the information it contains.